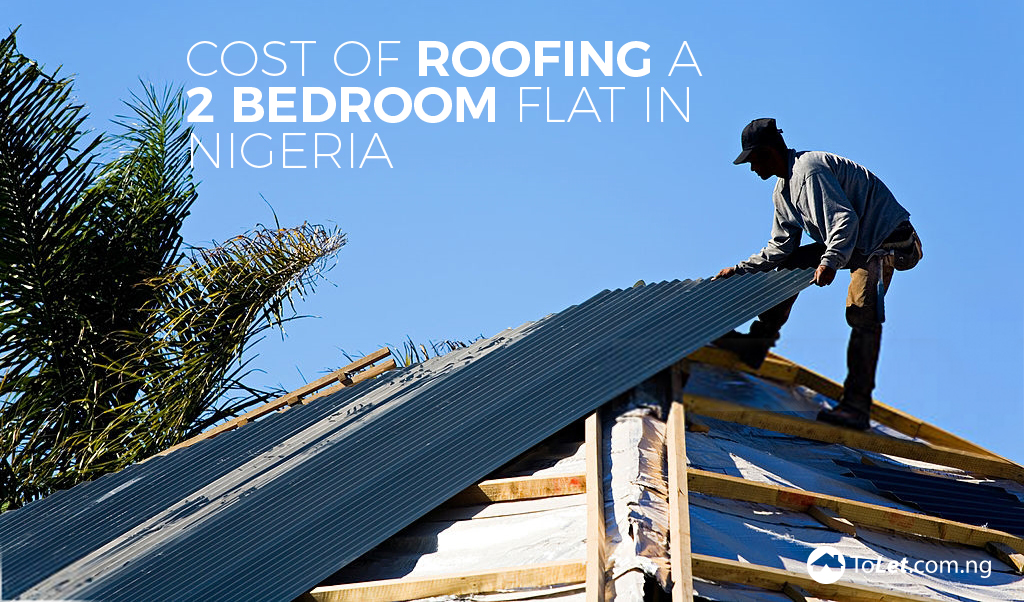 [ad_1]

The cost of building as well as roofing a 2-bedroom flat in Nigeria largely depends on a number of factors and it varies from one region to another. Factors such as foundation type, the price of the building materials and labour, the house design, the type of roof and internal finishing among others.
For example, you can build a flat with ₦20million in Lagos and the same flat might cost ₦15million in Ibadan. The cost of building a 3-bedroom bungalow in Nigeria also follows this same format.

ALSO READ: How to Build a House 
ALSO READ: Cheapest Plots of Lands for Sale in Ibadan
To determine how much it cost to roof a house in Nigeria, you need to first calculate the area to be roofed in metre square. That is, the building dimension measured on both the length and breadth along with the ridge cap, ceiling, valley gutter, gutter trimming, cladding, board among others. Some of these measurements can be gotten from the roof plan or better still measured physically again during construction.
Originality and Authenticity of Sheets
Some sheets change colour under few years of exposure to end up looking like a running splash of gold and rust.
The most preferred choice of roofing material for many home builders in Nigeria is the aluminum roofing sheets because it is less corrosive and doesn't leak, unlike zinc roofing sheets. There are two types of aluminum roofing sheet: long span corrugated aluminum roofing sheet and step tile aluminum roofing sheet. They come in varying colors such as red, blue, yellow, green, chocolate and brown. These type of roofing material is commonly used in Abuja, Lagos, Port Harcourt and other major big cities in Nigeria.
Zinc roofing sheet is commonly used in ancient cities like Ibadan. They are comparably low compared to the other types of roofing sheets. Zinc sheets are strong and have the ability to withstand heat and weight.
ALSO READ: Cost of Floor Tile per Square Metre in Nigeria
Asbestos is also cheap and it has the ability to absorb heat and resist corrosion although it is not environmental friendly. It has been banned in many western countries due to health issues associated with it.
Stone-coated or stone chip roofing tiles are made from an alloy of aluminum and zinc also as known as "galvalume" or "Alu-zinc" metal sheets as the base metal for this roof covering. There are different designs for stone coated roofing tile which includes shingle, bond, classic, Roman, Milano and shake design. However, the names may differ from one manufacturer to another.
CHECK OUT: OFFICE SPACE FOR RENT
The beauty of this roof tile is in its corrugated design. Some are coated with two stone colours. Original stone coated tiles tend to give any home an edge among others around. Generally, they give you good value for your money. Going with the trend, stone coated roofing tiles seems to be the latest in town with a longer lifespan of about 50years. These tiles will not rust, fade off or crack up during this lifespan.
The most common material used for roof trusses is wood. It is cheap and readily available and easily worked on. They are used for the woodwork during construction of a house before the roofing sheets are installed.
SEE: WAREHOUSE FOR RENT IN NIGERIA
Below are the current price of roofing materials in Nigeria (Per Square Meter)
Bond style roof tile (0.45 – 0.55mm) ₦3,300
Classic style roof tile (0.45 – 0.55mm) ₦3,400
Shingle style roof tile (0.45 – 0.55mm) ₦3,400
Milano design (0.55mm)  ₦3,400
Wooden Shake design (0.55mm) ₦3,400
Roman design (0.55mm)  ₦3,400
1m of 0.45mm Corrugated Aluminium Long Span roofing sheet ₦2,100
1m of 0.55mm Corrugated Aluminium Long Span roofing sheet ₦2,700
1m of 0.70mm Corrugated Aluminium Long Span roofing sheet ₦3,200
1m of 0.90mm Corrugated Aluminium Long Span roofing sheet ₦4,000
1m of 0.45mm Metrocopo Aluminium ₦2,500
1m of 0.55mm Metrocopo Aluminium ₦1,900
1sqm of Heritage design roof tile (0.45 – 0.50mm) ₦2,900
1sqm of Roman design roof tile (0.45 – 0.50mm) ₦3,200
1Nr. of aluminium circular ridge cap (0.40mm, 1090mm long) ₦800
1Nr. of aluminium circular ridge cap (0.55mm, 1090mm long) ₦900
1Nr. of aluminium circular ridge cap (0.70mm, 1090mm long) ₦1,000
1m of stone-coated ridge cap (0.40 – 0.55mm) ₦1,200
1m of stone-coated side cap (0.40 – 0.55mm) ₦1,200
1m of aluminium side cap (0.40mm – 0.70mm) ₦1,000
1sheet of 1200 x 1200mm ceiling asbestos ₦800
1bundle of Gypsum plaster boards (10mm, 120 x 300) ₦3,000
1bundle of Gypsum plaster boards (12mm, 120 x 300) ₦3,200
1sqm of Linear ceiling strips PVC ₦700
1sqm of Suspended PVC ₦3,400
1sheet of 2400 x 1200mm particle board ₦1,300
1sheet of 2400 x 1200mm Timber laminated board ₦1,500
1sheet of 2400 x 1200mm Celotex ceiling sheets ₦2,100
1sqm of 12mm aluminium Suspended ceiling tiles ₦9,000
1pcs of 60mm studs PVC accessories ₦550
1pcs of 60mm tracks PVC accessories ₦600
1pcs of wall angle PVC accessories ₦220
1pcs of ceiling profiles PVC accessories ₦350
1pcs of ceiling hangers PVC ₦700
[ad_2]

Source link